Does this sound like you?…
You have a successful business 📈
It's hard to take time off 😫
You struggle to switch off 🔋
Your cash flow forecasting is stressful 💰
You're chasing payments 💸
You sometimes worry you're not providing the best coaching service you could be 🤔
Apply Now
You reach a point…
Where you either continue doing it ALL or you outsource.
Which costs you initial time to train freelancers, money to pay them and sometimes it can feel difficult to delegate.
What if there was another way? 😀
Coach with Body Smart 
You can join us as part of our award-winning team and coach alongside your current clients 👍
Initially, we would give you 1-2 high quality, fully vetted and completely onboarded clients each week.
As you grow into the team, you have the choice and flexibility to accept more Body Smart clients.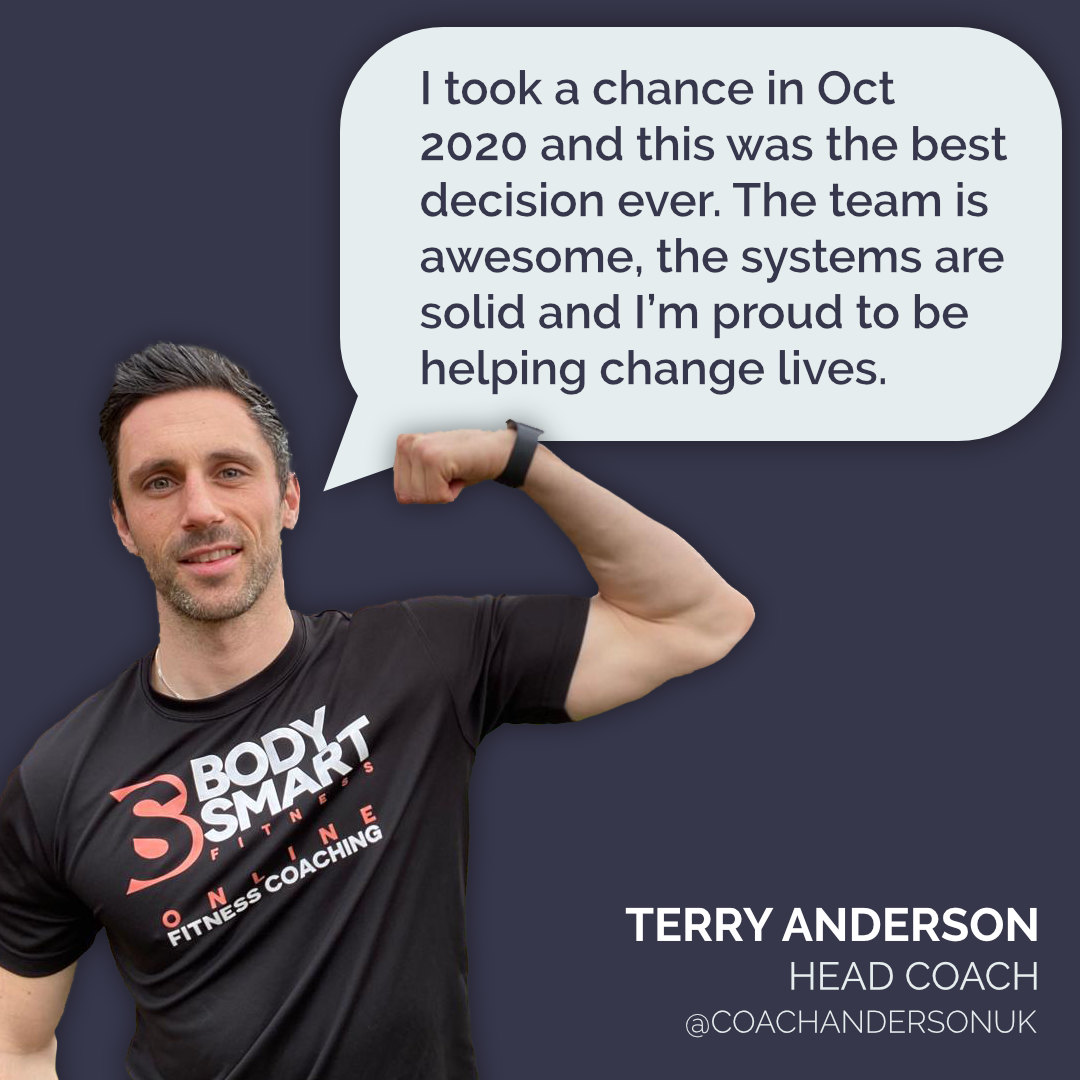 What we are looking for
🇬🇧🇺🇸 UK or US based certified Personal Trainer with 5,000 hours in-person or online coaching (this usually equates to 3-4 years in your role)
🍎 Must hold an industry recognised nutrition certification
🧠 Bonus for additional certs in psychology or coaching
🙌 Must be competent working with clients on a macro and habit-based approach
👩‍💻 Must be an excellent written communicator with strong time management skills
✅ Previous experience delivering online coaching is essential
💡 Flexible and willing to learn proven systems for success (that makes coaching easier)
🖥 Available to attend short online team meetings (which are super fun)
The Financials 💷
💷 We invest in exceptional coaches and offer a generous pay structure. Depending on the number of Body Smart clients you agree to coach, you can expect to earn the following with the potential for more.
UK 🇬🇧
£2900 – £6200
GBP per month
USA 🇺🇸
$4000 – $6500
Apply Now
The Perks 🌟
Boundaries – work phone and Sundays strictly off
Mentor and buddy system to help you level up your coaching and share your own expertise
Clients fully vetted and matched based on your interests and skillset
Teammates are other high performing coaches
Constant investment into ongoing personal development including paid certifications such as Precision Nutrition, Girls Gone Strong and more
Team meetups and holidays
Christmas paid time off
Covered time off for holidays so you can switch off without worrying about your clients!
Full team; content, outreach, sales, client care hero to support you
Exciting career progression and part of a global movement!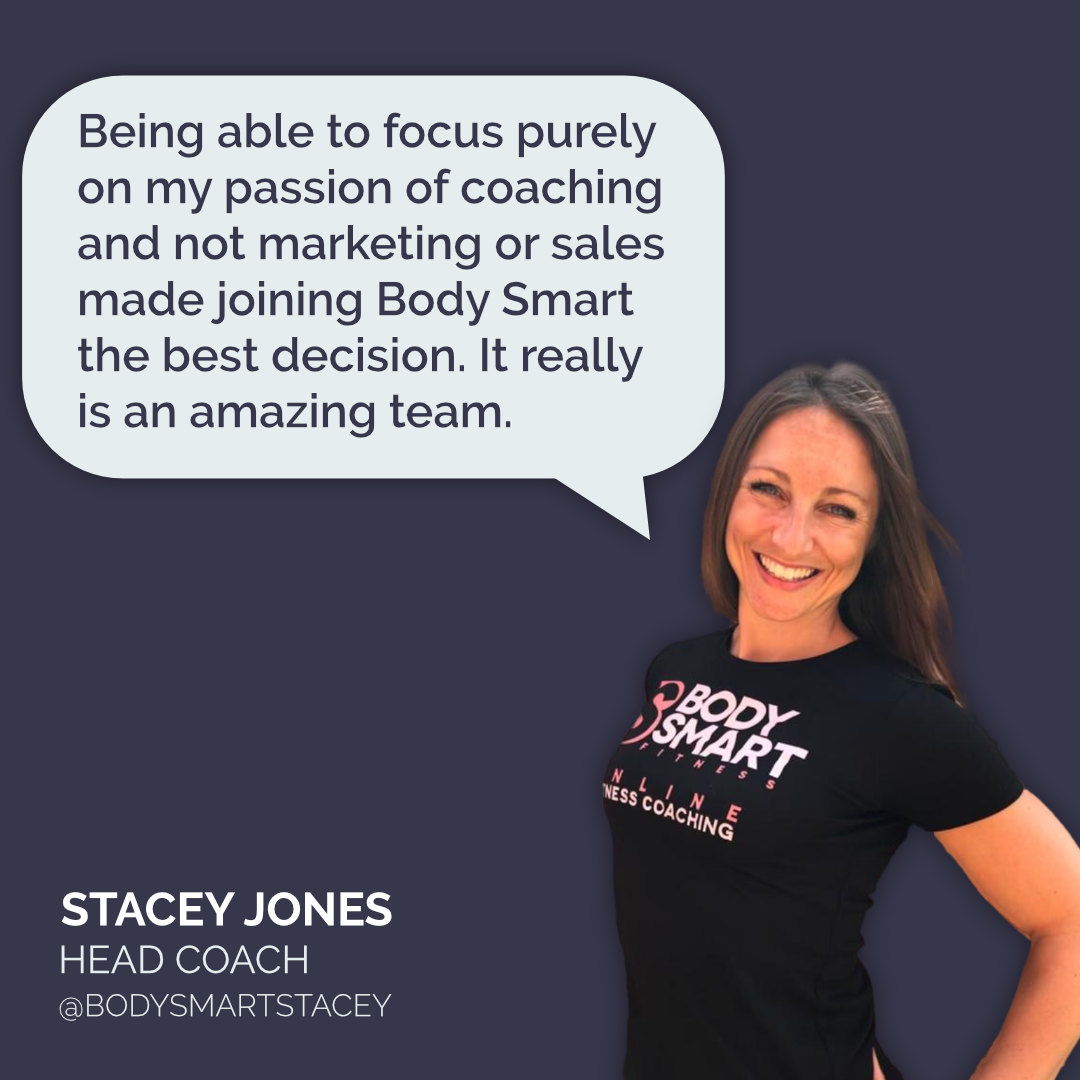 Body Smart Values 🤲
Sustainability – is our passion and the overall goal with each client's long term health, fitness and well-being
Education – is centred around evidence-based practices and delivered professionally by qualified coaches
Communication – is honest and open where clients and coaches listen and feel heard
Results – take time, patience and consistency. We are committed to getting the best out of people
Empathy & Compassion – for our clients is at the heart of our client-centred coaching
Trust – is the foundation of every great coaching relationship
Body Smart Core Values 🤲
Sustainability – Sustainable results are the compound effect of our dedication to forging the right systems, structure and support within a truly sustainable business and sustainable team.
Growth – We cultivate growth; of the team, the turnover, our professional and personal development, our reach, our results, and our impact. We grow together.
Team Glue – We are dedicated to curating a team spirit that is loyal, fun, collaborative, transparent, nurturing, creative, dynamic, humble, resourceful, and goal-oriented within a shared global vision.
🤩 Do you share our values?
💯 Believe in facts not fads?
🧠 Committed to science and psychology backed methods?
💩 Ready to help women all over the world #CutTheBS and achieve fat loss for the final time?
💎 We ONLY hire diamonds.
🏆 The best of the best.
⭐️ The top coaches we can find.
Apply Now
`
A peek into our team meet-ups!
Frequently Asked Questions 🙋‍♂️
💬 Can I keep my own business?
Initially, yes! All our coaches also have the option to keep up their own social media platforms and can also bring clients into the business themselves that way with the view of going full-time.
💬  Can I go full time?
This is the plan! Once you've met your probationary period and if mutually agreed, you can reach cap quite quickly.
🏝 Can I go on holiday?
We WANT you to go on holiday! So many of our coaches come to us having struggled to take time off when working for themselves. We have systems in place to ensure you get time off.
We are so passionate about the culture and team that we have 2x full team meet-ups a year!
Apply Now